THE FRENCH HAD A NAME FOR IT 3
The third time is more than the charm for Don Malcolm's relentless re-envisioning of French film noir. The latest installment provides an even more comprehensive view of this "lost continent," where more than 300 French noirs have languished due to a series of events unique in film history.
THE FRENCH HAD A NAME FOR IT 3 shows how classic noir remained a vibrant form for French filmmakers over four decades. In addition to the usual familiar names (Jean Gabin, Simone Signoret, Jean Marais, Michèle Morgn) in less-than-familiar titles, FRENCH 3 revives rare and exceptional films from both ends of the historical spectrum.
Opening night—Thursday, Nov. 3—takes us back to 1939 with the highly anticipated screening of the first adaptation of James M. Cain's The Postman Always Rings Twice, Le dernier tournant/The Last Turn, directed by French noir pioneer Pierre Chenal. It screens with another 1939 film, Marcel Carné's Le jour se lève/Daybreak, often seen as the bridge between poetic realism and film noir.
The other edge of the timeline—the 1960s—is generously represented as well, with six films from that transitional decade appearing in the festival lineup. Of particular note are two from 1962—La dénonciation/The Denunciation and Léviathan/Dark Journey (Sunday afternoon, Nov. 6)—directed by "lost" members of the Nouvelle Vague. These forgotten works straddle the fault lines between the "cinema de papa" and the youth revolt that successfully throttled their elders.
In between, FRENCH 3 rehabilitates two directors dismissed by the New Wave, Christian-Jaque (Friday, Nov. 4) and Jean Delannoy (Monday, Nov. 7); reintroduces two of France's most mounumental monstres sacrés (Michel Simon and Louis Jouvet); spotlights two doomed actresses whose lives and careers were destroyed by World War II (Corinne Luchaire, Mireille Balin); and features a bevy of talented, beautiful actresses who are the heart and soul of the films in which they appear (Micheline Presle, Marie-France Pisier, and Simone Renant).
We are extremely pleased to be able to screen Manèges/The Cheat this year, courtesy of Rialto Pictures (playing Sunday evening, Nov. 6). An astonishingly pungent examination of greed and sexual manipulation, it so unnerved viewers that many of them publicly berated Simone Signoret for playing such a heartless woman. We predict that it will soon take its place near the very top of the French noir pantheon.
And last but not least, we present HOSSEIN X 5, a full day (Saturday, Nov, 5th) of five films featuring actor/director Robert Hossein, already a festival favorite in previously screened works such as Chair de poule/Highway Pickup, Toi le venin/Blonde in the White Car, and Le monte-charge/Paris Pick-up. See the sidebar below for more info.
Simply put, it's the best FRENCH HAD A NAME FOR IT yet.
THU, NOV 3
Origins: 1939

(1939) 7:30

LE DERNIER TOURNANT
THE LAST TURN
(1939) 9:20
FRI, NOV 4

Rehabilitations 1: Christian-Jaque

VOYAGE SANS ESPOIR
JOURNEY WITHOUT HOPE
(1943) 7:30

(1946) 9:20
SAT MATINÉE, NOV 5
HOSSEIN X 5
Two with Marie-France Pisier
LE MORT D'UN TUEUR
DEATH OF A KILLER
(1964) 1:30

LE VAMPIRE DE DÜSSELDORF
THE SECRET KILLER
(1965) 3:15
SAT EVENING, NOV 5

The Many (Deadpan) Moods of Robert Hossein…

DES FEMMES DISPARAISSENT
THE ROAD TO SHAME
(1959) 6:00

(1960) 7:45

LE JEU DE LA VÉRITÉ
THE GAME OF TRUTH
(1961) 9:30
SUN MATINÉE, NOV 6

1960s "Art-Noir" and the "Lost Boys" of the Nouvelle Vague

LA DÉNONCIATION
THE DENUNCIATION
(1962) 1:30

(1962) 3:30
SUN EVENING, NOV 6

Simone Signoret et un Monstre Sacré

(1947) 7:00

(1950) 9:00
MON, NOV 7

Rehabilitations 2: Jean Delannoy, "New Wave Whipping Boy"

MACAO, L'ENFER DE JEU
GAMBLING HELL
(1942) 7:15

LES JEUX SONT FAITS
THE CHIPS ARE DOWN
(1947) 9:00
FESTIVAL PASS AVAILABLE
Buy a FESTIVAL PASS—admittance to all 15 films for only $60. You will thank us later.
Advance pass purchases will be available for pickup at the Roxie box office on Wednesday, Nov. 3.

The Roxie Theater at 3117 16th St. can be reached at 415.863.1087.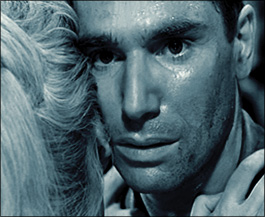 SATURDAY, NOV 5 - HOSSEIN x 5
Perhaps the most unique auteur in the history of French noir, Hossein's five films in FRENCH 3 range from sweaty B-noir (Les femmes disparaissent/The Road to Shame) to studies in upper-class decadence (Les scélérats/The Wretches, Le jeu de la vérité/The Game of Truth) to heart-rending explorations of a serial killer (Le vampire de Düsseldorf/The Secret Killer). As you will discover, no two Hossein noirs are alike!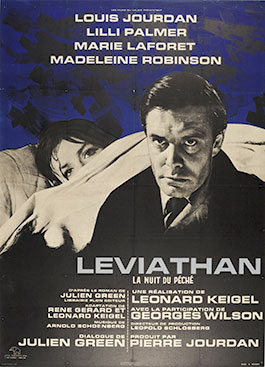 Léviathan/Dark Journey with Louis Jourdan, Lilli Palmer and Marie LaForêt screens Sunday, Nov 6, at 3:30.
AERO ♥ FRENCH NOIR!!
THE FRENCH HAD A NAME FOR IT
AT THE CINEMATHEQUE
A wild four-day weekend of classic French noir played out October 6-9 at the American Cinematheque's Aero Theatre in Santa Monica.
Attendees thrilled to the star power of Jean Gabin, Simone Signoret, Alain Delon, Jeanne Moreau, Danielle Darrieux and Jane Fonda, as classics from the 30s to the 60s opened their eyes to a "lost continent" of French film noir.
Especially resonant with the crowds at the Aero were raritiies such as Yves Allégret's The Cheat/Manèges, Edouard Molinaro's Back to the Wall/Le dos au mur, and Henri Decoin's The Truth about Our Marriage/La verité sur Bébé Donge.
Our thanks to those many adventurous enthusiasts who joined us and signed up for our mailing list. We will stay in touch—see you next year!
MIDCENTURY PRODUCTIONS
A "boutique" programming venture designing "mini film festivals," MID-CENTURY PRODUCTIONS features films from cinema's most explosive three decades—the 1940s, 1950s, and 1960s. We program original festivals and work with organizations and individuals to craft singular programming that illuminates the hidden corners of these three decades.

LOOKING FOR OUR MAILING LIST?
If you're not yet on our mailing list, why not?
Members receive special discounts and are eligible for our free giveaways, special prizes, and contests. And we keep you informed about what we're up to in our newsletter. Best of all—it's free! SIGN UP HERE