Thanks to our Roxie faithful for a fabulous turnout in San Francisco July 26 in support of our Andrée Clement tribute! A great time was had by all, as the "Goth Girl" rocked the Roxie in two memorable 1946 noirs, THE DEVIL'S DAUGHTER and THE BACK STREETS OF PARIS.
But now things get really busy...it's the Fall, when French noir takes its place at the center of the spotlight. Read below for previews of coming attractions in Los Angeles (four nights at the Aero Theatre beginning on September 6) and San Francisco (six nights and twenty films coming to the Roxie starting November 15).
THURSDAY, SEPT 6 — SUNDAY, SEPT 9 • AERO THEATRE
IN LOS ANGELES: A MOST ECLECTIC EIGHT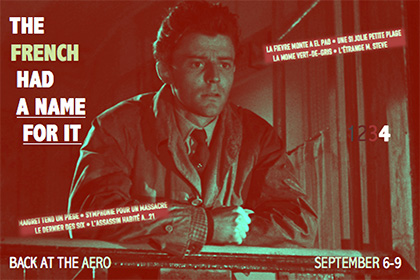 Gérard Philipe kicks off our fourth L.A. festival on Thursday September 6 and immediately establishes that our lineup there is exceptionally wide-ranging. From the sinister tropical heat of FEVER RISES IN EL PAO /LA FIEVRE MONTE A EL PAO to the dank, doom-laden eternal rain of SUCH A PRETTY LITTLE BEACH /UNE SI JOLIE PETITE PLAGE, Philipe is a master of noir understatement.
We change pace on Friday with two offbeat caper films: meet Eddie Constantine as he first brings to life Lemmy Caution, the first grinning, irresistible-to-women super-spy (seven years ahead of James Bond). He's got his hands full with the sultry Dominique Wilms, however—and, as you'll see, it's touch-and-go in more than one way throughout POISON IVY/LA MOME VERT-DE-GRIS. Next, see Jeanne Moreau and Lino Ventura together a year before ELEVATOR TO THE GALLOWS as they put Philippe Lemaire through his paces in THE STRANGE MR. STEVE/L'ETRANGE M. STEVE, where love and larceny make strange bedfellows indeed.
Parisian crime steps up several notches on Saturday, as the great Jean Gabin plays George Simenon's famed Inspector Maigret, on the hunt for a serial killer in MAIGRET SETS A TRAP/MAIGRET TEND UN PIEGE. We top that with the US premiere of the 4K restoration of Jacques Deray's taut tale of infinite betrayal, SYMPHONY FOR A MASSACRE/SYMPHONIE POUR UN MASSACRE.
Another policeman is showcased on Sunday (closing night) as we salute the rowdy beginnings of the great director Henri-Georges Clouzot. Pierre Fresnay is the volatile Inspector Wens, and between his high-maintenance girlfriend (Suzy Delair) and a parade of operatic villains, he has his hands full. See him figure out the fate of THE LAST OF THE SIX/LE DERNIER DE SIX, and cheer him on as he risks life and limb in THE MURDERER LIVES AT 21/L'ASSASSIN HABITE AU 21. Think of it as THE THIN MAN on steroids, with more sex...
It's all too brief, but oh so good—join Don Malcolm at the Aero for four nights of lip-smackin' French noir! For more info, visit the American Cinematheque website.
THURSDAY, NOV 15 — TUESDAY, NOV 20 • ROXIE THEATRE
THE FRENCH HAD A NAME FOR IT 5:
SOME SAN FRANCISCO REVELATIONS
The complete schedule for FRENCH 5 at the Roxie will be available on September 24, but here's a bit of teaser info to tide you over 'til then. As always, Midcentury Productions' subscribers are first in line for info, discounted passes, and special giveaways during the festival. Remember, FRENCH 5 begins on Thursday November 15 and is devoted to what Don calls "the frenetic Fifties."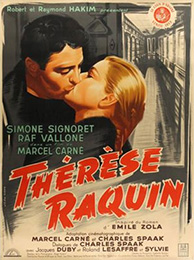 You'll see the great Simone Signoret on that Opening Night in one of her finest performances in Marcel Carné's THE ADULTRESS/ THÉRÈSE RAQUIN. Friday night (the 16th) features two more pre-New Wave star turns from the one-and-only Jeanne Moreau, including Boileau-Narcejac's nail-biting THE SHE-WOLVES/LES LOUVES, a major rediscovery that, like so much of French noir, has been unseen for more than half a century. Saturday (the 17th) showcases two glamorous Fifties icons, one still alive and well in 2018, Marina Vlady, and the other a tragic casualty at age 40, Henri Vidal).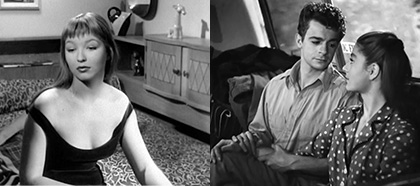 Sunday (the 18th) is a bracing mix of noir romance featuring young lovers Serge Reggiani and Anouk Aimee and the narrative experiments of France's often-underrated directorial giant, Julien Duvivier.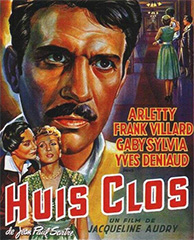 Monday (the 19th) takes us into nefarious interior landscapes, as betrayal assumes hellish overtones—literally, in fact, in our revival of Jacqueline Audry's adaptation of Jean-Paul Sartre's famous play NO EXIT/HUIS CLOS, featuring the great Arletty as you've never seen her!
And there's so much more! All the details will be here and at the Roxie site in less than a month. It's the biggest and best FRENCH HAD A NAME FOR IT yet...stay tuned! Better yet, subscribe to the Midcentury mailing list to get the latest info delivered right to your mailbox. .