SF ROXIE THEATRE - WED, DECEMBER 13
NOIR NOËL –
WHO KILLED SANTA CLAUS • PARIS PICKUP
Those who attended FRENCH 4 already know about our special Xmas plans, but we are delighted to remind everyone that NOIR NOËL, a sensational evening of French Yuletide noir, is coming to the Roxie on Wednesday evening, December 13th (beginning at 7:15pm).
Our double feature begins with the great Harry Baur (just seen at FRENCH 4 in Mollenard) in Who Killed Santa Claus / L'Assassinat du père Noël (1941), a superb "provincial gothic" tale of greed and murder at Yuletide in a remote French village. This was the first film produced by Continental Films, the Nazi-run film company established during the Occupation, but director Christian-Jaque and screenwriter Charles Spaak manage to work in many subversive themes that signify the beginnings of the French resistance to their oppressors. It is Harry Baur at his most poignant and lovable.
We follow with festival favorite Robert Hossein in one of the twistiest French thrillers ever, Paris Pick-up / Le Monte-charge (1962), which will make you swear off elevators for quite some time! Hossein plays a just-released ex-con whose interest in an unattached young woman (Lea Massari) leads to a series of Christmas Eve events that will leave you baffled and breathless. Based on a Frédéric Dard novel, Paris Pick-up is quite possibly the best Xmas-based thriller ever.
SF ROXIE THEATRE - SAT, DECEMBER 9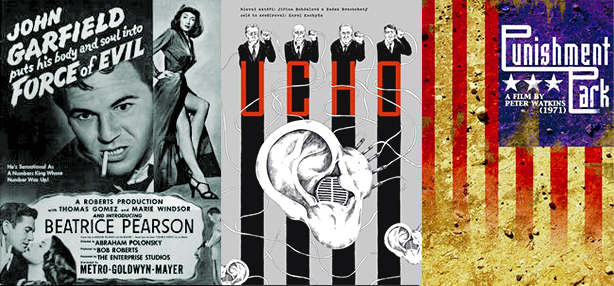 AGITPROP! 2 –
FORCE OF EVIL • THE EAR • PUNISHMENT PARK
Midcentury Production's AGITPROP! events present work that explore the social and political filmmaking of the past. The three films screening Saturday, December 9 are exceptional films made in exceptional times and deal with the tendency of the modern state to undermine the freedoms of its citizens. Tickets are $10, with 100% of sales from all tickets donated to the ACLU.
1:00 PM: FORCE OF EVIL (1948) has particular resonance to our current American malaise. John Garfield stars in this blistering "autopsy of capitalism" written and directed by Abraham Polonsky. It lays out the lingering danger that a system of so-called "free enterprise" can become predatory and corrupt, in a film that pits brother against brother. It's a film that's needed to be shown ever since the tragic election results of November 8, 2016.
2:45 PM: Banned in Czechoslovakia for more than 20 years, THE EAR aka UCHO, was made in 1970, but not released until the advent of perestroika. It is a tale of paranoia and relentless surveillance in a totalitarian state, and the shattering effect it has on the lives of a couple in the middle ranges of a thoroughly corrupt government bureaucracy. Directed by Karel Kachyna, The Ear has been described as a cross between Francis Ford Coppola's The Conversation and Mike Nichols' Who's Afraid of Virginia Woolf—a cautionary tale about what can happen to humanity if it fails to safeguard democratic principles.
4:30 PM: PUNISHMENT PARK is remarkably prescient in showing how the state can manipulate perception and undermine dissent. Dissident British filmmaker Peter Watkins created this cinema verité style "mockumentary" in 1971, during the final phase of the protest over the Vietnam War. Forty-five years later, it is a fascinating historical artifact that needs to be seen by those who wish to be effective in resisting the increasingly worrisome statements issued from the current occupant of the White House.