MIDCENTURY ECLECTIC! THE "ARCHAEOLOGY OF ARTHOUSE"
Every filmgoer knows "arthouse," but that term has become increasingly fuzzy around the edges. How did we get here from its beginnings? How did this more daring and personal approach to filmmaking come to be?
Programming renegade and MCP head honcho Don Malcolm, mastermind of the French noir series (THE FRENCH HAD A NAME FOR IT) that electrified sold-out Roxie shows over 2014/2015, takes a fascinating 90-degree turn with MIDCENTURY ECLECTIC! — tracing the roots of "arthouse" cinema around the world in the 40s, 50s and 60s.
From rarely-screened masterpieces (LOS OLVIDADOS, FORBIDDEN GAMES, ASHES & DIAMONDS) to astonishing rediscoveries (RAPTURE, THE SAVAGE EYE, THE CONDEMNED OF ALTONA), Malcolm's curatorial kineticism is palpable, pushing us to discern arthouse elements in unusual places (comedies such as Italy's THE PASSIONATE THIEF, France's THE SHEEP HAS FIVE LEGS, and Great Britain's NOTHING BUT THE BEST).
"MIDCENTURY ECLECTIC! has to be the most adventurously programmed (by Don Malcolm) repertory film series of the year, centerpieced by a screening of THE BAD SEED with star Patty McCormack in person at 6 p.m., Sunday, May 15.... Really, there's not a weak link in this intriguing journey into the fractured arthouse of the mid-20th century." »MORE
Malcolm dares us to see "arthouse" where some see "kitsch"—and, as a result, we will all see something new in the 60th anniversary screening of THE BAD SEED (with its star, the great Patty McCormack, making a special Roxie appearance after the screening on Sunday evening).
Come swing from the rafters with Don as he kicks off a totally new approach to repertory programming. Dare to immerse yourself in MIDCENTURY ECLECTIC!
FRI, MAY 13
Children in Peril

LOS OLVIDADOS
THE FORGOTTEN ONES
(1950) 7:00
JEUX INTERDITS
FORBIDDEN GAMES
(1952) 9:00
SAT MATINEE, MAY 14
Beyond the Kitchen Sink

(1961) 2:00
(1964) 4:00
SAT EVENING, MAY 14
Strange Aftermaths of War

POPIOL I DIAMENT
ASHES AND DIAMONDS
(1958) 7:00
I SEQUESTRATI DI ALTONA
THE CONDEMNED OF ALTONA
(1962) 9:00
SUN MATINÉE, MAY 15
Totó and Fernandel – Forgotten Comic Masters

RISATE DI GIOIA
THE PASSIONATE THIEF
(1960) 1:30

LE MOUTON À CINQ PATTES
THE SHEEP HAS FIVE LEGS
(1954) 3:30
SUN EVENING, MAY 15
In Search of "Midcentury American Arthouse"

(1956) 6:00
PATTY McCORMACK with FOSTER HIRSCH

(1960) 9:00
MON, MAY 16
The Peril in "Coming of Age"

(1944) 7:00

(1965) 9:00

The Roxie Theater at 3117 16th St. can be reached at 415.863.1087.
PATTY McCORMACK IN PERSON!
The legendary Patty McCormack, world famous at the age of 10 for her turn as the murderous young "angel" in THE BAD SEED, will appear in person after our screening on Sunday evening (May 15: the show starts at 6 sharp). Our guest curator, noted author/historian Foster Hirsch, will interview her. Don't miss it.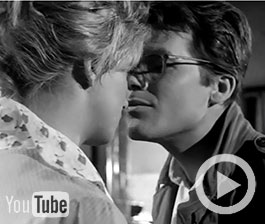 ↑ View the festival trailer.