ROXIE THEATRE • THURSDAY, JULY 26
Save the date!

Join us for THE FRENCH HAD A NAME FOR IT's MIDSUMMER NIGHTMARE—featuring "Goth Girl" ANDRÉE CLÉMENT

Who is Andrée Clément?

Join intrepid French noir explorer Don Malcolm at San Francisco's Roxie Theater on Thursday evening, July 26, as he shines a light on the most unusual actresses in the entire French film noir canon.

"We call Andrée Clément the first 'Goth girl' for her modern look, her intensity and her unique mingling of darkness and innocence," says Don. "Tragedy hung over her: she lost her husband at age 21 due to World War II. Her health, always fragile, betrayed her: she was only 35 when she died."

Louis Jouvet called her "my angel of darkness." Serge Reggiani claimed that no actress ever gave him the kind of shivers she induced in him when they worked together. Her filmography is slight—just 13 films—but she's indelible in all of them.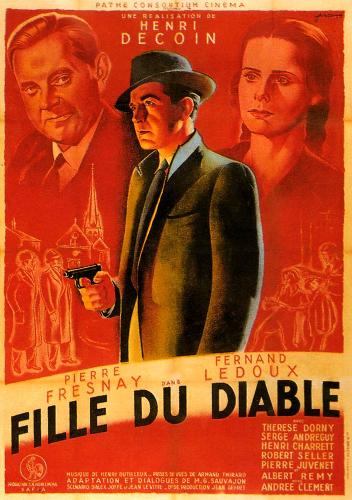 Malcolm is so taken with the "Goth girl" that he couldn't wait to share her with his audience. THE FRENCH HAD A NAME FOR IT's "Midsummer Nightmare" showcases Clément beginning at 7:15 pm on Thursday, July 26, in two startling mid-40s noirs.
First, she gives a chilling performance in Henri Decoin's LA FILLE DU DIABLE/DEVIL'S DAUGHTER (1946), where she embodies a desolate psychological space as a young girl masterminding a gang of provincial thugs.
What makes the story stranger still is her idolizing of a gangster in hiding (Pierre Fresnay) who only wants to elude the authorities, and who's being blackmailed into being a model citizen by the town consul (Fernand Ledoux) who knows his true identity. This is one of the most infernal triangles in all of film noir—don't miss it!
Next, in MACADAM/THE BACK STREETS OF PARIS (1946), Clément is joined by some serious star power—Simone Signoret, Paul Meurisse, and the legendary Françoise Rosay—in an ironic tale of the sordid events that swirl around the Hotel Bijou, a seedy dive run with an iron fist by Rosay. It's the usual plat du jour—murder, deceit, revenge, greed, squalor, prostitution, unrequited love—but served up with extra panache and wit by a stellar cast. Andrée Clément is the long-suffering "good girl" who tugs at your heart—and who will absolutely astonish you in MACADAM's slam-bang finish!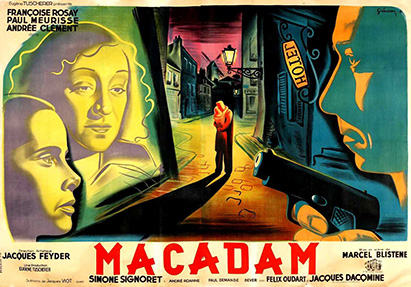 .
Thursday, July 26 Showtimes - One Night Only!

7:15

LA FILLE DUE DIABLE/DEVIL'S DAUGHTER

9:00

MACADAM/THE BACK STREETS OF PARIS
San Francisco's Roxie Theatre is located at 3117 16th Street. PHONE: 415.863.1087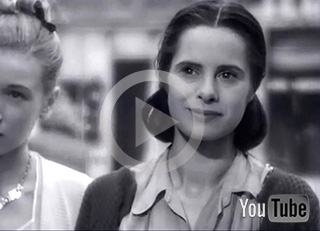 ↑ VIEW MID-SUMMER NIGHTMARE TRAILER
FRENCH NOIR RETURNS IN SEPTEMBER TO LOS ANGELES
Good news for Los Angeles subscribers! Our fourth annual festival is set to return to the American Cinematheque's Aero Theater for four nights in September (Thursday 9/6 through Sunday 9/9).
Highlights include an opening night tribute to Gérard Philipe, the US premiere of Pathé's 4K restoration of Jacques Deray's 1963 heist masterpiece SYMPHONY FOR A MASSACRE, and a double bill showcasing the frenetic early works of legendary director Henri-Georges Clouzot, THE LAST OF THE SIX (1941) and THE MURDERER LIVES AT 21 (1942). We'll also see plenty of Jeanne Moreau and Lino Ventura in films from the 50s before they became superstars.
The full schedule will be available at the Cinematheque website early in August. Subscribe to our newsletter for further updates. Make your plans to join us at the Aero!
THE DARK SIDE OF THE DREAM

Thanks to our loyal fan base in San Francisco for their support of last month's DARK SIDE OF THE DREAM festival at the Roxie Theatre (March 23-26). The sensational press coverage was exceeded only by the enthusiastic engagement of the audience, who connected all the dots in our look at "subversive cinemea for subversive times." The crowd cheered for all 12 films in Elliot Lavine's great series, with special kudos for the Joseph Losey double bill featuring his incendiary remake of M and the rarely-screened THE LAWLESS.
SWAG & GIVEAWAYS CONTINUE AS THE SLOW REVEAL FOR THE FRENCH HAD A NAME FOR IT 5 BEGINS!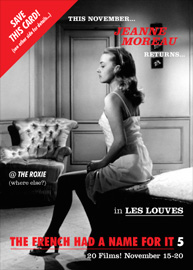 Those of you from the Midcentury subscriber list in the running for free passes to THE FRENCH HAD A NAME FOR IT 5—we know who you are! And now you have an inside track to be our guest and see up to 21 films when that series returns to the Roxie on Thursday, November 15!
Here's how it works. Those who bought passes for our recent DARK SIDE OF THE DREAM event can request from us a copy of our first teaser card for FRENCH 5 (pictured above). We'll put your name/email address on it and keep it safe until you arrive for our July 26 show! You'll remain in the running for a free FRENCH 5 festival pass... and you'll be enrolled in our giveaway contest featuring our finest (and rarest) "swag." Additionally, all those holding teaser cards with "Save This Card!" in the upper left corner will have a shot at winning a complete set of the currently available FACES OF FRENCH NOIR postcards.
50 copies of our first teaser card—and who better to tease you than Jeanne Moreau, who returns with another night devoted to her on Friday, November 16, are now available. Come to the Roxie to grab an extra card or two, because the more you have, the more chances you'll have to win! Another 50 cards will be released when the initial supply is gone. Only 200 of these cards will be distributed prior to July 26th, so keep a sharp eye! (Remember, subscribers who bought passes for DARK SIDE OF THE DREAM can email us to have a card saved for them.)