2014 Don Murray Retrospective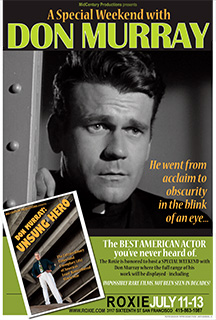 "When I came to Hollywood, I was told that I should pick roles that would develop a recognizable personna with the audience—that was the way to develop a movie-star relationship with them. I did the exact opposite."
—Don Murray
San Francisco's Roxie Theater presented A SPECIAL WEEKEND WITH DON MURRAY on Friday, July 11 through July 13, 2014. The best American actor you've never heard of, Don Murray leapt from Broadway to movie stardom opposite Marilyn Monroe in BUS STOP (1956), but his aversion to the Hollywood star system caused his career to go into a completely different direction. His penchant for characters with tormented inner lives, and his ceaseless quest for leading roles that also contained character-actor dimensionality soon put him at odds with the changing nature of movie stardom in the 60s. The Roxie program explored the full range of Don Murray's work—including impossibly rare films that haven't been seen for decades!

Don appeared Saturday and Sunday for interviews (including several with his good friend, noted author/interviewer Foster Hirsch, also making his Roxie debut!), Clips from the upcoming documentary about his life and career, DON MURRAY: UNSUNG HERO, were also featured between screenings.
VIEW THE SPECIAL WEEKEND PROGRAM
DON MURRAY's the most unusual and least-remembered of the great actors who emerged in the Fifties. He played roles that other actors weren't willing to risk (a drug addict in HATFUL OF RAIN, a closeted gay senator in ADVISE AND CONSENT). He fought typecasting in Hollywood even as he worked tirelessly to solve the lingering problems for European refugees still living in camps more than a decade after WWII. He broke out as an independent filmmaker with THE HOODLUM PRIEST, but found his vision for similar projects thwarted by the changes that swept over Hollywood and America in the Sixties. He has a lost body of work that is ripe for rediscovery. MORE.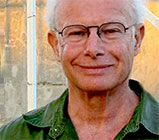 FOSTER HIRSCH wouldn't toot his own horn, but the Brooklyn College film professor, historian, and author of nearly two dozen books may just be the best film interviewer in the world. He is working on an epic look at 1950s film and it is no coincidence that the films he will be discussing with Don Murray were all shot in Cinemascope! MORE.
Don Murray Retrospective in Santa Barbara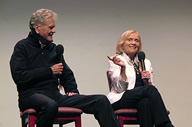 August 2011 brought together two joyful events: the 49th wedding anniversary of Don Murray and Bettie Johnson, and the screening of seven films from Don's criminally-neglected career. Old friend and HATFUL OF RAIN co-star Eva Marie Saint was on hand to share reminiscences about the little-known Fred Zinnemann classic and share the festive atmosphere at the Lobero Theatre in Santa Barbara. Matchless interviewer Foster Hirsch was the conduit for a uniquely stimulating discussion. The following day, five Don Murray films were screened at the Center Stage Theatre, including Don's personal favorite, THE HOODLUM PRIEST, and the film which earned him an Oscar nomination, BUS STOP.
UNSUNG HERO
Mid-Century Productions proudly presents UNSUNG HERO, which shines a light on the magnificent but mysterious career of Don Murray, a man who was—and is—much more than a movie star. UNSUNG HERO digs deep to discover just what happened to Don after his huge success opposite Marilyn Monroe in BUS STOP (1956). The film also resurrects an astonishing number of first-rate lost works that put Don's career into proper perspective. Recently completed, the film is currently in sneak preview mode around the country.
UNSUNG HERO COMES HOME
UNSUNG HERO was screened October 20 in conjunction with 70th anniversary celebration of Don Murray at Harry Bunting Auditorium, East Rockaway High School, East Rockaway, New York, with Don Murray in attenance.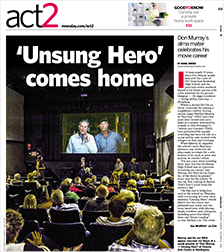 → Read the fantastic article about Don, UNSUNG HERO and the East Rockaway reunion that appeared in NEWSDAY(pdf)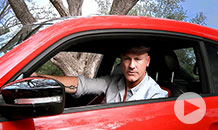 EXPERTS DISSECT THE DON MURRAY MYSTERY
Excerpt from the completed film. Early in the film, a series of talking heads (including film historians Foster Hirsch and Jeanine Basinger, plus two of Don Murray's sons) set the stage for a detailed look at the incredible events in Don's life that gave his career its unexpected arc. Note the presence of our "mystery expert" who will, over the course of the film, prove to know as much or more as those with more conventional "expert" credentials...
THE BACHELOR PARTY (1957)
A seven-minute mini-introduction to Don Murray's second film, where he plays a young New York City accountant harried by the need to "get ahead" and the unwelcome burden of impending parenthood. Seeking respite from his troubles, he goes out "with the boys" to celebrate the impending marriage of one of his office mates--and discovers a good bit more than he bargained for. Murray is supported by a great ensemble cast: Jack Warden, E.G. Marshall, Larry Blyden, Carolyn Jones, Patricia Smith, Philip Abbott, and Nancy Marchand. The film was directed by Delbert Mann, and features gorgeous black-and-white photography by Joe McDonald.
THE PACIFIST AS PUGILIST
Don Murray was a conscientious objector during the Korean War, and nearly went to jail as a result of an overzealous draft board that questioned his motives. (He would win the case, and perform alternative service in Europe from 1953-55, which would have a profound influence on him.) Despite that legacy, Don has demonstrated a great deal of ability to use his fists (at least on-camera!) This three-minute set piece provides a humorous look at his pugilistic talents, including his hilarious retelling of an actual case of "pugilistic mistaken identity" that happened to him on the New York subway system in 1952.