FRENCH 5: L.A. TAKES PRISONERS GALORE!
It was a big four-day weekend at the Aero Theatre right after Labor Day (September 5-8, 2019) as THE FRENCH HAD A NAME FOR IT 5 brought various flavors of darkness and mayhem to audiences ready and willing to push past the usual noir stereotypes.
From opening nigdht's dueling policiers through Friday's double dose of Jean Gabin, the excitement kept building. Saturday's three-pack of Alain Delon was a wonderful foray into the 60s—but Sunday night was where the rubber met the road, with Michel Simon bringing his singular, hulking noir presence dead-center on the Aero's big screen. Don Malcolm made his pitch that NON COUPABLE was darker and crazier than PANIQUE—and the audience agreed! Merci beaucoup, L.A.—and until next year, à bientôt!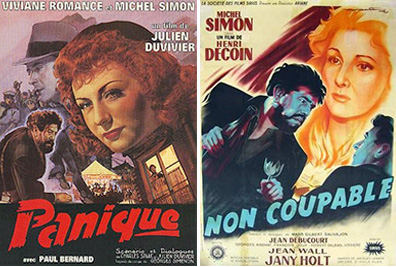 FRENCH 4 LOS ANGELES

FRENCH NOIR SCORES BIG AT THE AERO
Eight wide-ranging noirs took center stage in Los Angeles at the American Cinematheque's Aero Theatre from September 6-9, 2018, playing to large, enthusiastic audiences. Audiences thrilled to Jean Gabin as Commissioner Maigret in Jean Delannoy's recently rediscovered MAIGRET SETS A TRAP, and they were highly entertained by the low jinks of Eddie Constantine and Dominique Wilms (France's answer to Veronica Lake) in POISON IVY. They applauded the great Gérard Philipe for two magnificent performances in two widely divergent films: FEVER RISES AT EL PAO (directed by Luis Buñuel), and SUCH A PRETTY LITTLE BEACH, often considered to be the wettest film noir of all.
In between they enjoyed the directorial beginnings of Henri-Georges Clouzot in his two Inspector Wens thrillers, THE LAST OF THE SIX and THE MURDERER LIVES AT 21, warming to them thanks in part to Don's succinct description: "Think THE THIN MAN—but with more sex and violence!"
And they broke completely new ground with two very different heist films—the recently restored SYMPHONY FOR A MASSACRE, with a superb ensemble cast of increasingly desperate backstabbers, and THE STRANGE MR. STEVE, where the great Jeanne Moreau upsets everyone's applecart, including the gangster she's shacked up with. All in all, it was a superb and highly eclectic four days of rare French noir as only Midcentury Productions can provide to the hungering masses!
THE ELOQUENT, INDOMITABLE BERTRAND TAVERNIER

Audiences at the Aero Theatre attending LA's third installment of THE FRENCH HAD A NAME FOR IT (June 15-19, 2017) were enthralled by the in-person appearance of legendary director-historian Bertrand Tavernier, whose latest film MY VOYAGE THROUGH FRENCH CINEMA is now in limited release across the USA. A near-sellout crowd on Opening Night was rapt throughout the three-hour epic examination of classic French film, as Tavernier seamlessly tied together his own youthful fascination with film with searching, affectionate examinations of fabled filmmakers (Jacques Becker, Edmond T. Greville, Jean-Pierre Melville, Jean-Luc Godard), actors (Jean Gabin, Eddie Constantine) and composers (Maurice Jaubert, Joseph Kosma). View the trailer.
A matinée screening of Tavernier's Occupation-era classic LAISSEZ-PASSER (2002) produced a riveting Q&A on Saturday the 17th, which set up the screenings of LES PORTES DE LA NUIT (1946), Marcel Carné's brooding look at post-war Paris, and the first film by Jean-Devaivre, the key protagonist of LAISSEZ-PASSER, whose LA DAME D'ONZE HEURES is a riotously deadpan sendup of noir motifs, anchored by the great Paul Meurisse. Tavernier's introductions were lengthy but spellbinding, including heartfelt reminiscences about two worthy but lesser-known directors, Henri Decoin (whose work is familiar to FRENCH HAD A NAME FOR IT fans in San Francisco) and Gilles Grangier (whose work will be showcased in the fourth edition of the festival at the Roxie beginning on Friday, November 3).
Taking over from Tavernier on Closing Night (Monday, June 19th), Midcentury's Don Malcolm tied together a tangled web of creative interconnections in his previews of two often-neglected French noir classics, CASQUE D'OR (1952) and LES ORGUEILLEUX (1953). It was a reminder both of Tavernier's relentless quest to tie together the creative impetus in classic French film and the mission of THE FRENCH HAD A NAME FOR IT—to bring to light the astonishing number of lost and overlooked classic French film noirs that still await rediscovery. Thank you, American Cinematheque. And merci beaucoup to the indefatigable Bertrand Tavernier.
DON MURRAY RETROSPECTIVE IN SAN FRANCISCO

"When I came to Hollywood, I was told that I should pick roles that would develop a recognizable personna with the audience—that was the way to develop a movie-star relationship with them. I did the exact opposite." —Don Murray
San Francisco's Roxie Theater presented A SPECIAL WEEKEND WITH DON MURRAY on Friday, July 11 through July 13, 2014. The Roxie program explored the full range of Don Murray's work—including impossibly rare films that haven't been seen for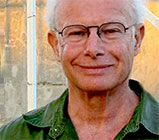 decades! Don appeared Saturday and Sunday for interviews (including several with his good friend, noted author/interviewer Foster Hirsch, also making his Roxie debut!). Clips from the upcoming documentary about his life and career, DON MURRAY: UNSUNG HERO, were also featured between screenings.
ANDRÉE CLÉMENT ROCKS THE ROXIE!
An enthusiastic crowd joined Don Malcolm on Thursday, July 26 to celebrate the centennial of brilliant-but-forgotten Andrée Clément (1918-1954), featured in two French noirs from 1946—THE DEVIL'S DAUGHTER and BACK STREETS OF PARIS—that put her back on the map as a talent of historical importance.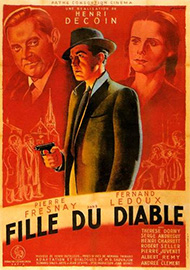 Clément was a "girl-next-door" type who was transformed by her intelligence and the unprecedented depth of emotion she was able to put into her characterizations. The Roxie audience was particularly astonished by her performance in THE DEVIL'S DAUGHTER; her anger and anguish in that film was compared by San Francisco Chronicle reviewer G. Allen Johnson to the work of James Dean. In BACK STREETS OF PARIS she's a key figure in a star-studded ensemble cast (Simone Signoret, Paul Meurisse, Françoise Rosay) who bring to life a lurid tale of criminal and romantic double-dealing that emanates from a seedy Parisian hotel.
Health issues and her early death (aged 35) precluded her from having an extended career, but her presence in these two films was more than sufficient to convince those who watched her at work that she was a one-of-a-kind performer fully deserving of rediscovery.
AGITPROP!
TAKES THE MEASURE OF SOCIAL JUSTICE
Wednesday, April 26 was a special evening at the Roxie, where social justice programming from the past reached out to a devoted 2017 audience. Spurred by pinch-hit host Elliot Lavine (subbing for Don Malcolm, still on the mend from heart surgery, who made a special video appearance), folks were treated to a panoply of socially conscious film and television—beginning with the famously controversial "abortion episode" of THE DEFENDERS, and continuing with two meditations on ethnic prejudice--the lost B-noir OPEN SECRET and the celebrated but too-seldom-seen noir classic CROSSFIRE.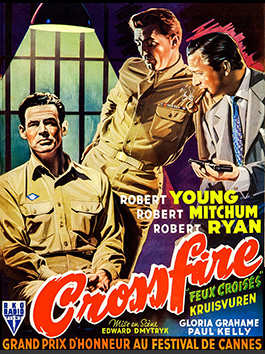 Thanks to our speakers—Gretchen Sisson and Vlad Khayin—for their fine efforts in tying together these pioneering works of the past with a broad historical context that reminded us that we must continue to defend abortion rights and thwart ethnic prejudice.
Folks had a generous dollop of fun as well, whether posing with Don Malcolm's amazing 6-sheet poster of CROSSFIRE, or signing the FREE THE DEFENDERS! petition urging Shout Factory to release seasons 2-4 of this landmark 60s TV series, all the while brandishing buttons that can win prizes for those who bring them back to the Roxie on May 5 for the RARE NOIR series. Thanks to all who attended, and watch this space for future social justice endeavors. In these tumultuous times, it's best to remember Ben Franklin's grimly relevant quip: "We must all hang together, or we may all hang separately."

A CRACKLING EVENING OF AGITPROP! Roxie Triple Feature Brings Back Two Groundbreaking Movies and a Television Episode That Still Hold Power
—Dennis Harvey, 48Hills.org
UNSUNG HERO
DON MURRAY is the most unusual and least remembered of the great actors who emerged in the Fifties. He played roles that other actors weren't willing to risk (a drug addict in HATFUL OF RAIN, a closeted gay senator in ADVISE & CONSENT). He fought typecasting in Hollywood even as he worked tirelessly to solve the lingering problems for European refugees still living in camps more than a decade after WWII. He broke out as an independent filmmaker with THE HOODLUM PRIEST, but found his vision for similar projects thwarted by the changes that swept over Hollywood and America in the Sixties. He has a lost body of work that is ripe for rediscovery. MORE.
Mid-Century Productions presents UNSUNG HERO, which shines a light on the magnificent but mysterious career of Don Murray, a man who was—and is—much more than a movie star. UNSUNG HERO digs deep to discover what happened to Don after his huge success opposite Marilyn Monroe in BUS STOP (1956). The film also resurrects an astonishing number of first-rate lost works that put Don's career into proper perspective. The film is currently in sneak preview mode around the country.
UNSUNG SCREENS AS PART OF 2017 AFI TRIBUTE TO DON MURRAY
From October 9-13, 2017, Don Murray's life and career was celebrated at AFI's Silver Theatre in Silver Spring, Maryland. Don Murray is scheduled to attend along with family members. UNSUNG HERO was screened Thursday, October 12 in conjunction with the stunning rediscovery of ALAS, BABYLON—a legendary Playhouse 90 episode (originally aired April 4, 1960) about the aftermath of a nuclear holocaust, starring Don and featuring an incredible all-star cast (Barbara Rush, Dana Andrews, Rita Moreno, Kim Hunter, Judith Evelyn, Everett Sloane and many more). The following night featured two searing dramas, A HATFUL OF RAIN (1957) and THE HOODLUM PRIEST (1961), the latter being Don Murray's personal favorite. There was a between-films interview with Foster Hirsch.
UNSUNG HERO COMES HOME
UNSUNG HERO was screened October 20, 2016, in conjunction with 70th anniversary celebration of Don Murray at Harry Bunting Auditorium, East Rockaway High School, East Rockaway, New York, with Don Murray in attenance.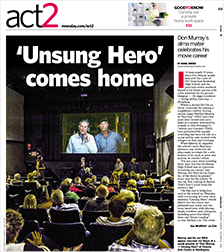 → Read the fantastic article about Don, UNSUNG HERO and the East Rockaway reunion that appeared in NEWSDAY(pdf)
DON MURRAY RETROSPECTIVE IN SANTA BARBARA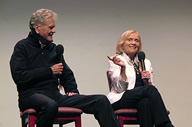 August 2011 brought together two joyful events: the 49th wedding anniversary of Don Murray and Bettie Johnson, and the screening of seven films from Don's criminally-neglected career. Old friend and HATFUL OF RAIN co-star Eva Marie Saint was on hand to share reminiscences about the little-known Fred Zinnemann classic and share the festive atmosphere at the Lobero Theatre in Santa Barbara. Matchless interviewer Foster Hirsch was the conduit for a uniquely stimulating discussion. The following day, five Don Murray films were screened at the Center Stage Theatre, including Don's personal favorite, THE HOODLUM PRIEST, and the film which earned him an Oscar nomination, BUS STOP.