FRIDAY, JULY 11, 2014
A HATFUL OF RAIN 7:30PM

Eva Marie Saint, Don Murray, Anthony Franciosa, Lloyd Nolan, Henry Silva, William Hickey, Gerald O'Laughlin; directed by Fred Zinnemann. (1957, 111 min.) 35mm print
Don Murray is Johnny Pope, Korean War hero with a terrible secret he's hiding from his wife (Eva Marie Saint)—he's hooked on heroin. Things get complicated when his father (Lloyd Nolan) visits, looking to reacquire some $$ promised to him by Johnny's brother Polo (Anthony Franciosa), who's spent it on Johnny's habit.
from UNSUNG HERO "The Democracy of the Wide Screen: Don Murray and Foster Hirsch discuss A HATFUL OF RAIN (5 min) will precede the screening of A HATFUL OF RAIN.
THE BACHELOR PARTY 9:45 PM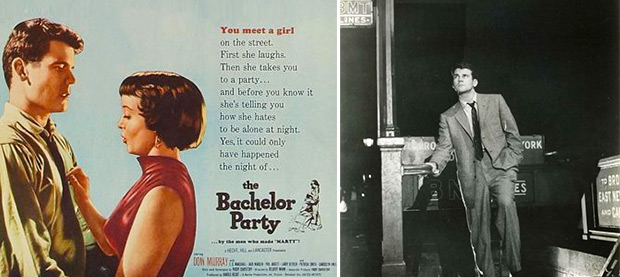 Don Murray, Patricia Smith, Jack Warden, E.G. Marshall, Carolyn Jones, Larry Blyden, Philip Abbott, Nancy Marchand; directed by Delbert Mann. (1957, 86 min) Digital.
Paddy Chayevsky's script explores the dark night of the soul for Charlie Samson (Don Murray) as he struggles with the increasing responsibilities of married life. A night out with his office-mates to tie one on for a buddy who's reluctantly getting married turns into a moment of crisis for Charlie, who's tempted by a bohemian goddess (Carolyn Jones) after a spat with his wife (Patricia Smith).
from UNSUNG HERO "The Perfect Actors' Mini-Studio" will precede the screening of THE BACHELOR PARTY (7 mins).
SPECIAL LATE SCREENING
SHAKE HANDS WITH THE DEVIL 11:30 PM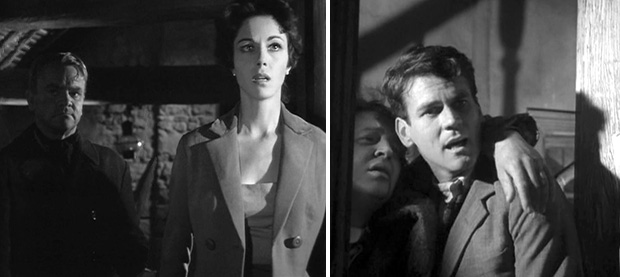 James Cagney, Don Murray, Dana Wynter, Michael Redgrave, Glynis Johns, Cyril Cusack; directed by Michael Anderson (1959, 111 min) Digital *Separate discounted admission.
An alternately brooding and violent tale of "the Troubles"—the Irish Civil War in the early 1920s—features Don Murray as a student who becomes embroiled in the increasingly bellicose actions of a charismatic revolutionary (James Cagney). Cinematographer Erwin Hillier is the real star of the film, providing consistently evocative images that strikingly capture the volatile atmosphere.