The Other Side of the Lost Continent, Don Murray,
and FRENCH 6 Continue MCP's Revival/Repertory Winning Streak!
Gear up for autumn with more matchless film programming from Midcentury Productions, where impactful rarities are our specialty...October and November 2019 will be simply chock-full of don't-miss events!
THE OTHER SIDE OF THE LOST CONTINENT
After a smashing start with THE CURTAIN RISES and BASTILLE DAY, this classic French film series celebrating the underseen gems of the "cinéma de papa" period gears up for a special double feature of music—powered love tales.
Join us for a special matinee double feature on Sunday October 13, where THE OTHER SIDE brings you the incomparable Louis Jouvet and the incandescent Dany Robin in a bittersweet story of music and misplaced love, MONELLE (1948). A beautiful young piano prodigy (Robin) is on her way to success in the hands of her mentor (Jouvet), but she creates a crisis when she falls in love with him. Director Henri Decoin, known for his noirs, proves flawless in his direction of this charming, heart-churning melodrama.
It's followed by a tense tale of love, betrayal and Tchaikovksy, played out in a love triangle populated by two half-sisters (Simone Signoret and Maria Casares). Filled with atmospheric imagery, tensely choreographed exchanges, and suspenseful flashbacks, this film lives up to its title: SHADOW AND LIGHT. Will the spurned one succeed in sabotaging her vulnerable virtuoso sister's return to the stage after a troubled hiatus? Director Henri Calef, aided by his legendary stars, digs deep into this fascinating tale of sisterly competition.
Join our mailing list to be notified when tickets go on sale for this singular double feature—you won't want to miss it!
DON MURRAY: 90TH BIRTHDAY TRIBUTE TO
THE "UNSUNG HERO"
A revised version of Don Malcolm's timely examination of the life and career of actor-activist Don Murray will have a special sneak preview (first come, first served via RSVP) on Tuesday evening, October 8 in the Little Roxie.
Murray, who turned 90 on July 31, had a fascinating career filled with great performances (BUS STOP; A HATFUL OF RAIN; THE HOODLUM PRIEST; ADVISE & CONSENT) but the film suggests that his legacy may lie elsewhere—in superb but little-seen works about race relations (THE OUTCASTS; SWEET LOVE, BITTER; CALL ME BY MY RIGHTFUL NAME) and in his pioneering humanitarian work. Murray's extraordinary times and exemplary life are celebrated in UNSUNG HERO, a labor of love that reminds us that having a social conscience is a good thing. Join the MCP mailing list to find out how to reserve your seats for this special sneak preview!
On Thursday October 10, you're invited to attend a special screening of a rare Don Murray performance in the riotous cult film HAPPY BIRTHDAY WANDA JUNE (1971), a prescient farce about the perils of toxic masculinity. The Kurt Vonnegut play burned through Broadway in 1970-71; the film version features Rod Steiger as a Hemingwayesque big game hunter missing and presumed dead who turns up as his wife (Susannah York) is deciding between two suitors (Murray, as a dim-witted, hyper patriotic vacuum cleaner salesman, and George Grizzard as a sensitive, introspective physician).
Never released on VHS or DVD, WANDA JUNE is shockingly relevant to the times we currently live in—here's an ultra-rare opportunity to see it on the big screen! MCP mailing list members will be given the first opportunity to reserve seats for this ultra-rare event.
FRENCH 6: ALL SIXTIES, ALL THE TIME
Save the dates: November 14-18 at San Francisco's Roxie Theatre. That's when MCP Executive Director Don Malcolm brings his unprecedented exploration of "the lost continent" of classic French film noir to a (temporary) close with THE FRENCH HAD A NAME FOR IT 6, a series that focuses on the 1960s and the "end of classic noir" in France.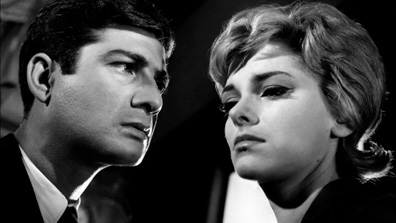 Fifteen rare and exceptional films from that decade will bring this explosive decade into focus in a way that only Don can do, from lost heist classics (SYMPHONY FOR A MASSACRE, THE FABIANI AFFAIR) to dark, spooky love tales dipped in betrayal and murder (THE BURNING COURT, WHERE THE TRUTH LIES); from women in various forms of peril (THÉRÈSE DESQUEYROUX, CONSTANCE IN HELL) to films exploring the dark corners of politics and war (THE LITTLE SOLDIER, THE WAR IS OVER, OBJECTIVE 500 MILLION).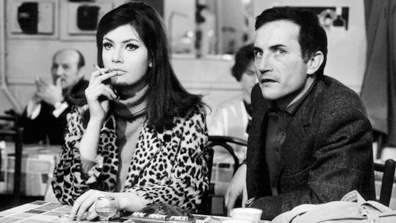 And—of course—there will be Gabin (ANY NUMBER CAN WIN) and Delon (JOY HOUSE) to keep you glued to your seats. It's the 60s...when—as Don notes—"all hell broke loose."
With these fifteen films, Don brings the total of rare classic French noirs screened since the series' inception in 2014 to the astonishing number of—one hundred and one (101). It's the ultimate vernacular classroom for a needed re-education about the origins and history of film noir, done only as Don can do it.
We'll see you in November!
NINE FILMS @ THE AERO!
FRENCH NOIR HITS L.A. SEPTEMBER 5-8
It's now official! Year Five of THE FRENCH HAD A NAME FOR IT/LA kicks off on Thursday, September 5 with a dynamic duo of policiers: Clouzot's classic QUAI DES ORFEVRES (1947) and Costa-Gavras' ultra-dynamic film debut, THE SLEEPING CAR MURDERS (1965).
Closing night (Sunday, the 8th) brings two towering performances from the great Michel Simon in the highly-lauded PANIQUE (1946) and the even darker NOT GUILTY (1947). In between, L.A. audiences will get their doses of Gabin, Delon and Ventura, thus ensuring a wild, wild weekend at the Aero Theatre!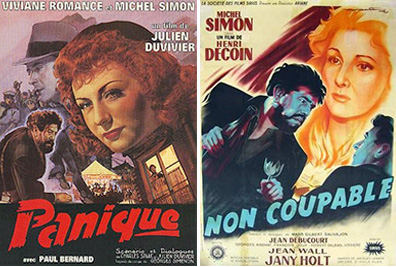 Program times and tickets are available on the Cinemathèque website.
Relive the Back pages of THE FRENCH HAD A NAME FOR IT
Interested to know what rare films from the "lost continent" of French film noir have been screened at THE FRENCH HAD A NAME FOR IT festivals at the Roxie Theatre? Here are some handy links that will take you to the program information: FRENCH 5½ (May 10-15, 2019); FRENCH 5 (Nov 15-20, 2018); FRENCH 4 (Nov 3-6, 2017); FRENCH 3 (Nov 3-7, 2016); FRENCH 2 (Nov 6-9, 2015); FRENCH 1 (Nov 14-17, 2014). FRENCH 6 (all 1960s French noir) is scheduled for November 14-18, 2019.



→ Join MidCentury now on Facebook and Twitter

San Francisco's Roxie Theatre is located at 3117 16th St. between Valencia & Guerrero, one block from 16th & Mission BART
BOX OFFICE: 415.863.1087