THE OTHER SIDE OF THE LOST CONTINENT

Reclaiming the Glories of France's Cinéma de Papa
Midcentury Productions' Don Malcolm and comrade Phoebe Green continue their exciting new series featuring rare comedies and love stories from France's unjustly maligned 1930s-50s era. Fans of THE FRENCH HAD A NAME FOR IT and adventurous Bay Area cinephiles are encouraged to attend as our "soft opening" in the Little Roxie continues…
Thursday, July 11 at 6:30 PM & Sunday, July 14 at 1:30 PM
BASTILLE DAY/14 JUILLET
(1933, 86m)
René Clair directed this iconic Parisian comedy during a highly productive run in the early thirties (including better-known classics A NOUS LA LIBERTÉ and LE MILLION). The set-up in BASTILLE DAY is perfection: a shopgirl (Annabella) and a cabby (Georges Rigaud) who are having trouble committing to each other find their relationship further complicated by the return of Rigaud's fetching ex (alluring Romanian expatriate Pola Illery, who starred in Clair's other thirties classic SOUS LE TOITS DE PARIS). Before you know it, Rigaud has been sucked into a robbery scheme and the joint they plan to knock over is the place where Annabella works!
Suspense and laughs are deftly intertwined by Clair, and he heightens the funny business with Rigaud's loudmouth fellow cabbie (Raymond Cordy) and his tipsy, tuxedoed passenger (Paul Ollivier), whose slightly demented interactions provide comic relief that ranges from wry to ribald to uproariously slapstick.
It's a rollicking ride through the streets of Paris, with colorful characters, sudden rainstorms, and perfectly choreographed plot complications. Come join us to celebrate the hidden glories of classic French cinema emanating from what Don calls "the other side of the Lost Continent"—a true treasure trove of unseen film classics!
→ Tickets are now on sale for both screenings:Thursday, July 11 at 6:30pm and Sunday, July 14 at 1:30pm). Seats are limited, so act now.If you're not a Midcentury subscriber, sign up for our newsletter and we'll remind you!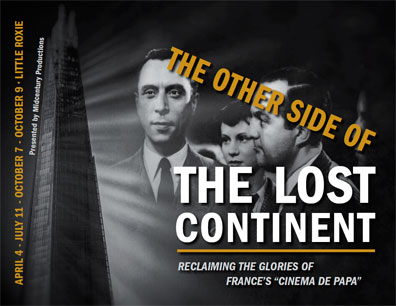 Other films in this series will screen in October (two intricate "piano romances," MONELLE/LES AMOREUX SONT SEULS AU MONDE, also with Louis Jouvet; and the compelling "dueling sisters" drama SHADOW AND LIGHT/OMBRE ET LUMIÈRE, featuring Simone Signoret and Maria Casares).
FRENCH 5½ WRAPUP

The "Fractional Festival" Hits Big Round Numbers!
A gigantic merci beaucoup to our faithful fans who turned out in droves for our first-ever "French noir in the Spring" festival (at the Roxie from May 10-13). MCP Executive Director Don Malcolm was stunned on Mothers' Day (Sunday, May 12) to see so many folks in the theatre for a 1930s triple bill. "Don't you have mothers?" he deadpanned.
Of course everyone has a mother, but the dedicated cinephiles who've supported MCP's spectacular (and relentless!) rediscovery of the "lost continent" of French noir clearly made a tough decision, which is that these impossibly rare films come first. (Several stalwart fans resolved the dilemma by bringing their mothers to the theatre with them!)
And the films were once again irresistible, ranging over all four decades of French noir, from the very first film noir (1932's NIGHT AT THE CROSSROADS) to the kinetic SLEEPING CAR MURDERS, a mid-60s thriller that bowled everyone over on Opening Night. (The uproarious response forced Malcolm to caution the audience that "not every film is going to be like that one!")
In between these two landmarks, there was plenty of fabulous middle ground, including Jean Gabin as George Simenon's iconic Commissioner Maigret (MAIGRET SETS A TRAP), Michele Morgan as a long-suffering trapeze artist (OBSESSION), and two splendid rarities featuring the often-overlooked Jean Pierre Aumont (THE DESERTER and WICKED CITY).

We hope to see all of our supporters in November for FRENCH 6, an all-1960s program. Save the dates (November 14-18) and prepare to be astonished all over again. A bientôt!

San Francisco's Roxie Theatre is located at 3117 16th St. between Valencia & Guerrero, one block from 16th & Mission BART
BOX OFFICE: 415.863.1087
Relive the Back pages of THE FRENCH HAD A NAME FOR IT
Interested to know what rare films from the "lost continent" of French film noir have been screened at THE FRENCH HAD A NAME FOR IT festivals at the Roxie Theatre? Here are some handy links that will take you to the program information: FRENCH 5½ (May 10-15, 2019); FRENCH 5 (Nov 15-20, 2018); FRENCH 4 (Nov 3-6, 2017); FRENCH 3 (Nov 3-7, 2016); FRENCH 2 (Nov 6-9, 2015); FRENCH 1 (Nov 14-17, 2014). FRENCH 6 (all 1960s French noir) is scheduled for November 14-18, 2019.