SUNDAY MATINEE, NOV 18, 2018THE PERILS OF COUPLING
THE LOVERS OF VERONA / LES AMANTS DE VÉRONE 1:00
Two films from the end of the previous decade help identify and define the stylistic and thematic shifts to come in the 50s. Director André Cayatte takes a fist-in-glove approach to the romantic undercurrents in Poetic Realism and creates a unique "last gasp" for that fabled cinematic approach.
Serge Reggiani (still lithe and youthful) and Anouk Aimée (already blazingly beautiful at age 16) are the stand-ins who take on all the Romeo & Juliet attributes in Cayatte's sweeping tale of love and betrayal—where corruption, backstage intrigue, and a post-WWII Italian family's desperate attempt to rehabilitate itself all converge to imperil the innocent young love that grows up in the midst of a maelstrom of competing impulses and dangerously conflicting events. A lost romantic masterpiece rediscovered!
(1949, 90min) Directed by Andre Cayatte. Dialogue by Jacques Prévèrt. Scenario by André Cayatte. Based in part on the play "Romeo and Juliet" by William Shakespeare. Photographed by Henri Alekan. Music by Joseph Kosma. With Serge Reggiani, Anouk Aimée, Pierre Brasseur, Martine Carol, Louis Salou, Marcel Dalio, Philippe Lemaire, Roland Armontel. Solange Sicard, Claudye Carter, Marcel Pérès.
MAYA, ETERNAL ILLUSION / MAYA 2:45

Dissatisfied by the continual typecasting that she'd received in film ever since her first discovery after wining the "Miss Paris" beauty contest in 1930, Viviane Romance searched for a project that would take her "delectable slut" image and blow it to smithereens.
In an unnamed seaport, women of the night ply their trade, caught in a web of eternal illusion. One of these is Maya, who ran away from her inland home only to become trapped in a life of prostitution. She meets a sailor (Jean-Pierre Grenier) and they fall in love—but will the weight of the past and her own lingering doubts conspire against her dreams of escape and happiness? Can she heed the warnings of the strange seer (Valery Inkijinoff) or has fate trapped her? It's "poetic anti-realism" at its most potent...
(1949, 79min) Directed by Raymond Bernard. Adaptation by Raymond Bernard and Simon Gantillon. Dialogue by Simon Gantillon from his play. Photographed by André Thomas. Music by Georges Auric. With Viviane Romance, Jean-Pierre Grenier, Marcel Dalio, Jacques Castenot, Valery Inkijinoff, Max Dalban, Fréhel, Judith Magre, Heddy Miller, Zina Rachevsky, Robert Hossein.
IN-BETWEEN MOVIE IN THE LITTLE ROXIE!
SINNERS OF PARIS / RAFLES SUR LA VILLE 4:15

Pierre Chenal was a giant of French noir in the 30s, culminating that decade with the first screen adaptation of James M. Cain's The Postman Always Rings Twice, LE DERNIER TOURNANT (1939). Forced to flee from the Nazis, however, he spent most of the next two decades in exile.
His last return ("dernier retour") to France revived his career in a series of tight "B-noirs" filled with the color and action that only a master director can supply. In this ironic tale, an elderly gangster (Charles Vanel) makes a bloody escape from the hospital where he was confined, creating panic and mayhem on both sides of the law. His obsessive love of a showgirl (Juliette Greco) is paralleled by the queasy behavior of one of the cops assigned to track him down (Michel Piccoli), who develops an unhealthy hankering for his partner's wife (Danik Pattison). Chenal handles these tandem plots with panache, reminding us along the way that "boys will be boys" no matter if they're cops or crooks...
(1958, 82min) Directed by Pierre Chenal. Screenplay by Paul Andréota, Jean Ferry and Pierre Chenal from the novel by August LeBreton. Photographed by Marcel Grignon. Music by Michel Legrand. With Charles Vanel, Bella Darvi, Danik Pattison, Michel Piccoli, François Guerin, Marcel Mouloudji, Jean Brochard, Georges Vitray, Albert Rémy, Georges Douking, Marcel Lupovici, Gina Manès.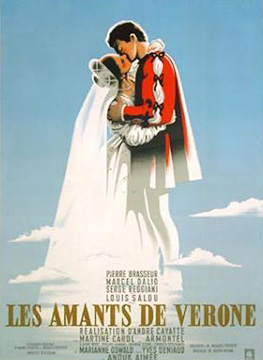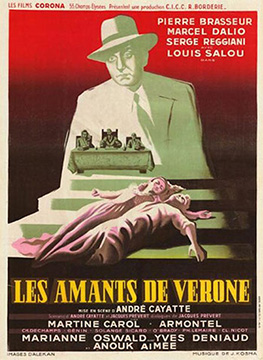 >