SATURDAY EVENING, MAY 14STRANGE AFTERMATHS OF WAR
POPIOL I DIAMENT / ASHES AND DIAMONDS 7:00
Wajda—along with Jerzy Kawalerowicz—is the Eastern European director who most directly influenced the Nouvelle Vague, daring to combine genres (hit man on the run vs. life-changing love story) in the final installment of his 50s war trilogy (POKOLENIE aka A GENERATION; KANAL). Zbigniew Cybulski became an international star due to his turn as the cynical hit man whose chance encounter with a barmaid (Ewa Krzyzewska) turns his "death-in-life" state of mind upside down.
Dir. Andrez Wajda (1958, 103 min.)
I SEQUESTRATI DI ALTONA / THE CONDEMNED OF ALTONA 9:00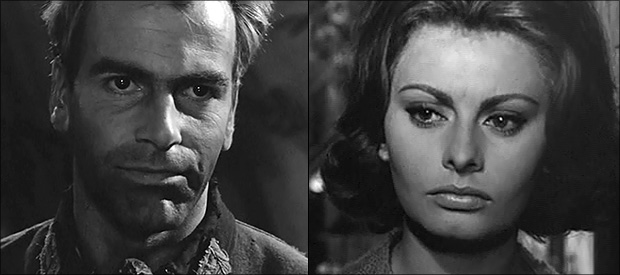 Repudiation from original playwright Jean-Paul Sartre and a troubled production history cast so many shadows over the film that director DeSica spent the better part of the next decade apologizing for having made it at all! Half a century later, however, the swirling winds of fascism around the world have brought a renewed urgency to this sordid tale of family secrets, madness, and the slippery slope than ensues when the lessons of history are trifled with. Cinematographer Roberto Gerardi started as camera operator for Federico Fellini, but no one could have predicted his masterful deconstructive use of widescreen to tell a uniquely claustrophobic tale. With Sophia Loren, Maximilian Schell, Fredric March, Robert Wagner and Françoise Prevost.
Dir. Vittorio DeSica (1962, 102 min.)