SUNDAY EVENING, NOV 5 ARLETTY & CASARES ON THE OTHER SIDE OF PARADISE
THE LADIES OF BOULOGNE WOOD / LES DAMES DU BOIS DE BOULOGNE 7:15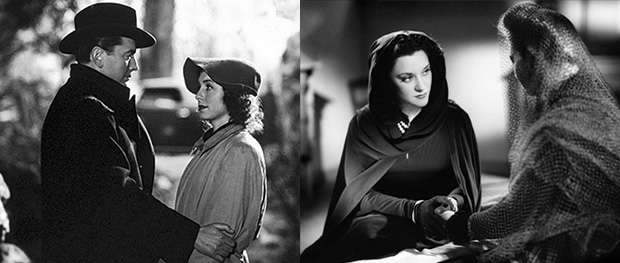 The sphinx-like Maria Casares, a legend on stage with acclaimed performances of Lady Macbeth and Medea, made her first on-screen splash in a co-starring role opposite Arletty in Marcel Carne's Les enfants du paradis. She continues her ascent with a pitch-perfect portrayal of Hélène, a woman from the upper reaches of the French upper class who is consumed with desire for revenge when her long-time lover Jean (Paul Bernard, memorable as the villain last year's festival favorite Voyage sans espoir) breaks up with her. She concocts a diabolical plan to trick him into marrying a young woman (Elina Labourdette) who's concealing a sordid past.
Robert Bresson, who would soon cast aside professional actors to achieve ever-more astringent character portrayals in his films, will surprise you with his innate grasp of the connective tissue between melodrama and noir in this precipitous tale of a woman who will literally stop at nothing to destroy the man who spurned her. With María Casares, Paul Bernard, Elina Labourdette, Lucienne Bogaert, Jean Marchat, Yvette Etiévant.
(1945, dir. Robert Bresson, 86 min.) Screenplay: Robert Bresson (adaptation) and Jean Cocteau (dialogue) from a novel by Denis Diderot. Cinematography: Philippe Agostini. Film editing: Jean Feyte. Music: Jean-Jacques Grünenwald
GIGOLO / GIBIER DE POTENCE 9:00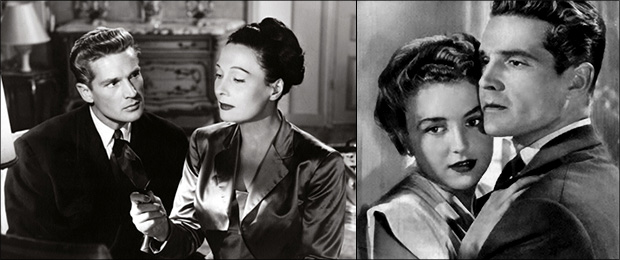 Roger Richebé was not a director who was vilified by the Nouvelle Vague—no, he was trashed by those who worked on his movies! But such was unwarranted: his detractors mostly lacked the conviction that Richebé brought to his envelope-pushing projects—of which Gibier de potence is one.
This richly sordid tale of a young man's entrapment into male prostitution spans World War II, adding resonance by virtue of Richebé casting his long-time friend Arletty, whose career had not recovered from her war-time affair with a German officer, as the calculating yet strangely maternal Madame Alice, who makes hapless hunk George Marchal's life a special kind of living hell. Can Marchal undo the slipknot on the ties that bind? Or was his fate foreordained the first time he laid eyes on Madame Alice? With Arletty, Georges Marchal, Nicole Courcel, André Carnège, Robert Dalban, Renée Cosima, Marcel Mouloujdi.
(1951, dir. Roger Richebé, 106 min.) Screenplay: Jean Aurenche and Maurice Blondea from the novel by Jean-Louis Curtis. Cinematography: Philippe Agostini. Film editing: Yvonne Martin. Music: Henri Verdun