THURSDAY, NOV 14, 2019EVEN PARANOIDS HAVE ENEMIES
LOVERS ON A TIGHTROPE / LA CORDE RAIDE 7:15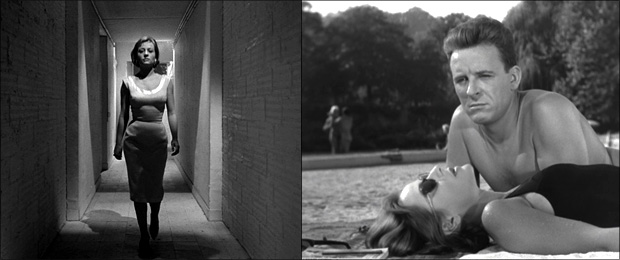 An early hint of the sixties pervades this stylish "B-noir" that combines slick camerawork and offbeat, rhythmic editing to enliven a tale of infidelity (ho-hum!), jealousy (yawn!) and murder (applause here!). Lead actors Annie Girardot (surprisingly sensual) and François Perier (alarmingly volatile) set up the audience for a Hitchcockian twist that turns the tale on a delirious ninety-degree angle! First-time director Dudrumet was never better thanks to his stars, his cameraman and his editor (Janine Verneau, who'd do the same for Agnes Varda in Cleo a 5 et 7 two years later).
(1960) 79min Directed by Jean-Charles Dudrumet. Scenario by Jean-Charles Dudrumet & Roland Laudenbach from the novel by Michel Lebrun. Photographed by Pierre Guéguen. Edited by Janine Verneau. Music by Maurice Jarre. With Annie Girardot, François Périer, Georges Descrières, Genevieve Brunet, Gèrard Buhr, Henri Crémieux.
THE BURNING COURT / LA CHAMBRE ARDENTE 9:00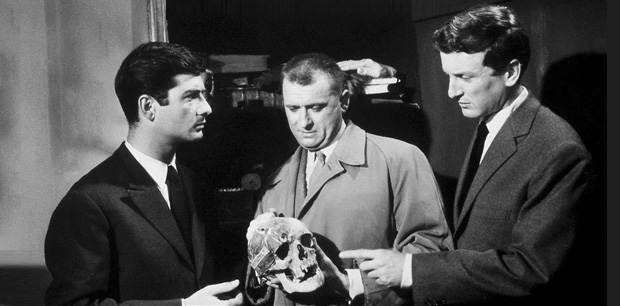 Visualize a sumptuous estate with an ancient curse—and an elderly owner with grasping relations who want him out of the way just as soon as humanly possible. Mix in scheming employees and a scholar interested in ancient witchcraft (the genesis of that "curse"...) and you've got the recipe for a most unusual "old dark house" tale done sixties style—and who else but crafty, cranky, masterful Julien Duvivier to give you the creeps? Are there really murderers who can walk through walls? Duvivier warms up for his astringent noir masterpiece Chair de poule with this sprawling noir-horror hybrid made to keep you guessing…and guessing!
(1962) 110min Directed byJulien Duvivier. Dialogue by Charles Spaak. Scenario by Charles Spaak & Julien Duvivier from the novel by John Dickson Carr. Photographed by Roger Fellous. Edited by Paul Cayatte. Music by Georges Auric. With Nadja Tiller, Jean-Claude Brialy, Edith Scob, Perrette Pradier, Walter Giller, Claude Rich, Dany Jacquet, Frédéric Duvallès, Héléna Manson, René Génin.