SATURDAY EVENING, MAR 21 WALK ON THE WILD SIDE
LIPSTICK / IL ROSSETTO 7:00

Dir. Damiano Damiani (1960) 96 min.
A theme in noir is the brutal loss of innocence, and our entries from Italy and Denmark provide blunt examples of how youthful misjudgment can lead to transgression and tragedy.
Once LIPSTICK has concluded, many will want to know whatever happened to Laura Vivaldi, who is so affecting as the fourteen-year-old protagonist whose schoolgirl crush on a handsome gigolo (Pierre Brice) creates a near-infinity of havoc for everyone—the gigolo, the girl's mother, and the long-suffering but tenacious police investigator (played by noted Italian director Pietro Germi) who's trying to determine who murdered a local call girl.
At various turns bittersweet and brutal, LIPSTICK is more of a stinging slap than a sensual kiss, and director Damiano Damiani (whose first film this was) refuses to pull his punches for actors and audience alike.
SIN ALLEY / BUNDFALD 9:00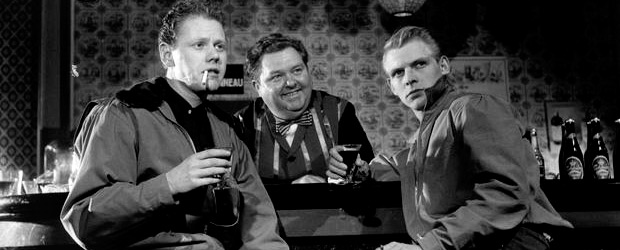 Dir. Palle Kjaerulff-Schmidt (1957) 86 min.
WHEN it is characterized at all, BUNDFALD is labeled a "youth exploitation" film. That it is, but it is so much more—it is a deep meditation on the loss of innocence and its consequences, with a subject (a homosexual blackmail ring) that was decades ahead of its time. It ruthlessly exposes "the evils of the big city" as Anton (blond, angelic Ib Mossin, a Danish Alan Ladd) is coerced into a life of crime by the cynically amoral Kaj (dark, sharp-eyed Bent Christensen, the Danish Herbert Lom).
Menace and melodrama are perfectly merged in a film that delivers atmospheric fatalism with a kinky, tragic twist.