FRIDAY, MAY 10, 2019
THE SLEEPING CAR MURDERS / COMPARTIMENT TUEURS 7:15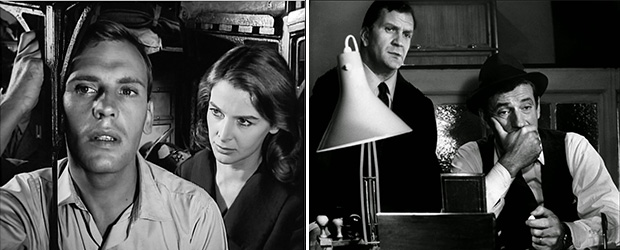 Six people travel in a railroad sleeping car from Marseilles to Paris. Upon their arrival, a woman is found dead in one of the berths. The police investigate the other five passengers, suspecting that one of them committed the homicide, but the suspects are killed one by one. The last two must solve the case themselves before they become the next victims.
(1965) 95min. Directed by Costa-Gavras. Adaptation by Costa-Gavras & Sébastien Japrisot from the novel by Sébastien Japrisot. Photographed by Jean Tournier. Edited by Christian Gaudin. Music by Michel Magne. With Catherine Allégret, Jacques Perrin, Yves Montand, Simone Signoret, Michel Piccoli, Claude Mann, Jean-Louis Trintignant, Pierre Mondy, Bernadette Lafont, Nadine Alari, André Valmy
THE FLYING WARDROBE / L'ARMOIRE VOLANTE 9:15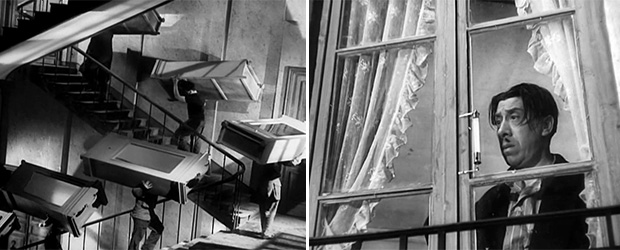 Alfred Puc is a conscientious tax inspector who lives with his aged, authoritarian aunt. When, one wintry morning, Madame Lobligeois sets off to collect some furniture from a house in Clermont-Ferrand, her nephew is convinced he will never see her again. He is proven right. On the way back, his aunt dies suddenly, and the removal men stow her body in her wardrobe. While the removal men are explaining all this to Alfred, their lorry is stolen, along with the corpse of Madame Lobligeois. When a he discovers that his aunt cannot be declared dead until her body is found, Alfred begins a desperate attempt to recover the stolen wardrobe....
(1948) 90min. Directed by Carlo Rim. Original screenplay by Carlo Rim. Photographed by Nicolas Hayer. Edited by Henri Taverna. Music by Georges Van Parys. With Fernandel, Berthe Bovy, Germaine Kerjean, Albert Dinan, Andre Bervil, Maximilienne, Nina Myral, Gaston Modot, Annette Poivre