SUNDAY EVENING, MAY 12, 2019
WICKED CITY / HANS LE MARIN 7:15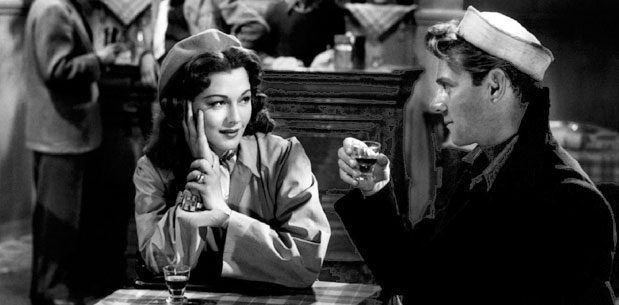 In Marseille, a sailor falls in love with a mysterious, beautiful cabaret girl, who promptly disappears. He abandons his ship in order to find her, but becomes sucked into the world of the demimonde on the waterfront. He's soon involved in an altercation where a local criminal is killed; he meets a gypsy who hides him so that he might escape. But will he abandon his search for the cabaret girl?
(1949) 95min. Directed by François Villiers. Scenario by François Villiers, Marcel Cravanne and Michel Arnaud; dialogue by Jean-Pierre Aumont from the novel by Edouard Peisson. Photographed by Jean Bourgoin and Raymond Voinquel. Edited by Henri Taverna. Music by Joseph Kosma. With Jean-Pierre Aumont, Lilli Palmer, Maria Montez, Marcel Dalio, Pierre Bertin, Roger Blin, Grégoire Aslan, Frédéric O' Brady.
PORTRAIT OF A KILLER / PORTRAIT D'UN ASSASSIN 9:15
Fabius is a circus racer who risks his life every night for love for Martha, his wife. The danger and ordeal of his work overhelms him, so he decides to free himself by murdering his wife But he mistakes someone else for her during the murder attempt and is soon confronted with his victim who did not die on the night of the crime. This beautiful woman casts a spell on him, and he soon abandons everything for her, but she proves even more dangerous than she is beautiful....
(1949) 97min Directed by Bernard-Roland. Screenplay by Marcel Rivet & Henri Decoin. Dialogue by François Chalais & Charles Spaak. Photographed by Roger Hubert. Edited by Germain Artus. Music by Maurice Thiriet. With Pierre Brasseur, Arletty, Maria Montez, Erich von Stroheim, Marcel Dalio, Jules Berry, Marcel Dieudonné, Les Fratinelli, Jean-Pierre Mocky.