SATURDAY MATINEE, DEC 13

(1960) 2:00

UNE MANCHE ET LA BELLE
A KISS FOR A KILLER
(1957) 4:30
SATURDAY EVENING

(1962) 7:00

CHAIR DE POULE
HIGHWAY PICK-UP
(1962) 9:00
SUNDAY, DEC 14

CHAIR DE POULE
HIGHWAY PICK-UP
(1962) 2:00, 7:00

(1960) 4:30, 9:15
MONDAY, DEC 15

CHAIR DE POULE
HIGHWAY PICK-UP
(1962) 7:00

(1960) 9:15
TUESDAY, DEC 16

UN TEMOIN DANS LA VILLE
WITNESS IN THE CITY
(1959) 7:00

J'IRAI CRACHER SUR VOS TOMBES
I SPIT ON YOUR GRAVES
(1959) 9:15
WEDNESDAY, DEC 17

UNE MANCHE ET LA BELLE
A KISS FOR A KILLER
(1957) 7:00

UN TEMOIN DANS LA VILLE
WITNESS IN THE CITY
(1959) 9:00
THURSDAY, DEC 18

CHAIR DE POULE
HIGHWAY PICK-UP
(1962) 7:00

J'IRAI CRACHER SUR VOS TOMBES
I SPIT ON YOUR GRAVES
(1959) 9:15
*Note that all films will be shown with English subtitles.
SATURDAY EVENING, DEC 13, 2014NOEL NOIR
LE MONTE-CHARGE / PARIS PICK-UP 7:00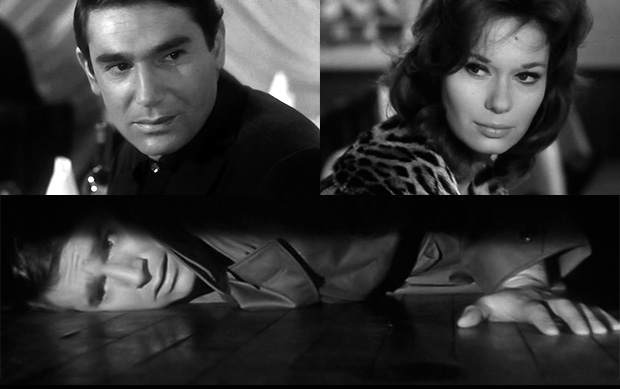 As a special Christmas valentine to all Bay Area cinephiles who made THE FRENCH HAD A NAME FOR IT a runaway success last month (Nov 14-17), Midcentury Productions and I Wake Up Dreaming present a VERY twisty French thriller set (appropriately enough...) on Xmas Eve!
Festival favorite Robert Hossein is back as a man just paroled from prison whose ill-advised decision to break curfew and return to his mother's Paris apartment sets him up for a Christmas Eve he—and you—will never forget!! Alluring and mysterious Italian actress Lea Massari (L'AVVENTURA, MURMURS OF THE HEART) is perfect as the woman Hossein picks up, without having the faintest idea what she has in store for him!
One screening only! December 13 at 7:00pm. Screening with festival favorie CHAIR DE POULE, also starring Robert Hossein. Don't miss it! Dir. Marcel Bluwal (1962, 82 min.)
CHAIR DE POULE / HIGHWAY PICK-UP 9:00
Legendary director Duvivier (PÉPÉ LE MOKO, LE FIN DU JOUR, PANIQUE) was nearing the end of his illustrious career, but he saved one of the best for last in CHAIR DE POULE, in which the essence of noir's hard-boiled school is distilled in a taut tale of fate, lust and enveloping entrapment. Robert Hossein is at his astringent best as a thief on the lam who jumps from frying pan into the fire when he holes up at a highway truck stop where he's quickly embroiled in the grasping, malevolent schemes of a hard-bitten, voluptuous vixen (Catherine Rouvel) who will literally stop at nothing to get what she wants! With Jean Sorel, and Jacques Bertand. With photography from Léonce-Henri Burel, longtime right-hand man of Robert Bresson. Dir. Julien Duvivier (1963, 107 min.).