SATURDAY MATINEE, DEC 13

(1960) 2:00

UNE MANCHE ET LA BELLE
A KISS FOR A KILLER
(1957) 4:30
SATURDAY EVENING

(1962) 7:00

CHAIR DE POULE
HIGHWAY PICK-UP
(1962) 9:00
SUNDAY, DEC 14

CHAIR DE POULE
HIGHWAY PICK-UP
(1962) 2:00, 7:00

(1960) 4:30, 9:15
MONDAY, DEC 15

CHAIR DE POULE
HIGHWAY PICK-UP
(1962) 7:00

(1960) 9:15
TUESDAY, DEC 16

UN TEMOIN DANS LA VILLE
WITNESS IN THE CITY
(1959) 7:00

J'IRAI CRACHER SUR VOS TOMBES
I SPIT ON YOUR GRAVES
(1959) 9:15
WEDNESDAY, DEC 17

UNE MANCHE ET LA BELLE
A KISS FOR A KILLER
(1957) 7:00

UN TEMOIN DANS LA VILLE
WITNESS IN THE CITY
(1959) 9:00
THURSDAY, DEC 18

CHAIR DE POULE
HIGHWAY PICK-UP
(1962) 7:00

J'IRAI CRACHER SUR VOS TOMBES
I SPIT ON YOUR GRAVES
(1959) 9:15
*Note that all films will be shown with English subtitles.
SUNDAY, DEC 14, 2014
CHAIR DE POULE / HIGHWAY PICK-UP 2:00, 7:00
Legendary director Duvivier (PÉPÉ LE MOKO, LE FIN DU JOUR, PANIQUE) was nearing the end of his illustrious career, but he saved one of the best for last in CHAIR DE POULE, in which the essence of noir's hard-boiled school is distilled in a taut tale of fate, lust and enveloping entrapment. Robert Hossein is at his astringent best as a thief on the lam who jumps from frying pan into the fire when he holes up at a highway truck stop where he's quickly embroiled in the grasping, malevolent schemes of a hard-bitten, voluptuous vixen (Catherine Rouvel) who will literally stop at nothing to get what she wants! With Jean Sorel, and Jacques Bertand. With photography from Léonce-Henri Burel, longtime right-hand man of Robert Bresson. Dir. Julien Duvivier (1963, 107 min.).
LA VERITÉ / THE TRUTH 4:30, 9:15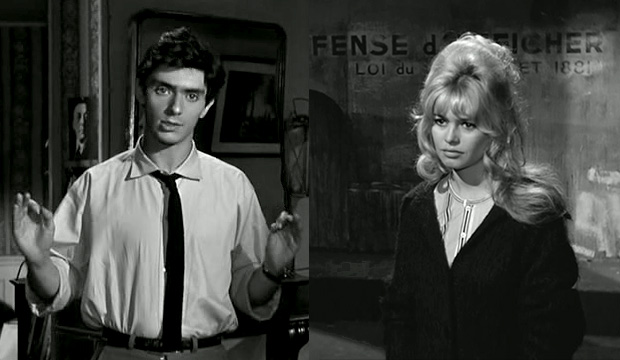 The emergence of Brigitte Bardot signaled a sea change in how sexuality was depicted on screen, and her superstardom provoked a firestorm of controversy and backlash. LA VERITÉ traded on that notoriety and placed itself squarely in the middle of the French culture wars, with Bardot literally and figuratively "on trial" for her lack of decorum. Flashbacks ignite the sordid tale of her character's misplaced loved for a narcissistic composer (Sami Frey) and become the basis of a furious courtroom battle when she is charged with his murder. With Paul Meurisse and Charles Vanel as the bickering barristers. Dir. Henri-Georges Clouzot (1960, 122 min.)