SUNDAY DEC 12NOEL NOIR - TRIBUTE TO ROBERT HOSSEIN
LES SALAUDS VONT EN ENFER / THE WICKED GO TO HELL 1:30
Here is the "answer" to the "heist film" boomlet of mid-50s France, where two escaped convicts (Henri Vidal, Serge Reggiani) get much more than they bargained for in the form of a shapely, sphinx-like young woman (Marina Vlady) they "capture" during their time on the run. A clever, delirious jumping-off point for the films comprising the "last wave" of classic French film noir.
(1956) 91min. Directed by Robert Hossein. Scenario & dialogue by René Wheeler. Adaptation by René Wheeler & Robert Hossein from the play by Frédèric Dard. Photographed by Michel Kelber. Music by André Hossein. With Marina Vlady, Serge Reggiani, Henri Vidal, Robert Dalban, Robert Hossein, Jacques Duby, Guy Kerner.
SUNDAY DEC 12
PARIS PICK-UP / LE MONTE-CHARGE 3:30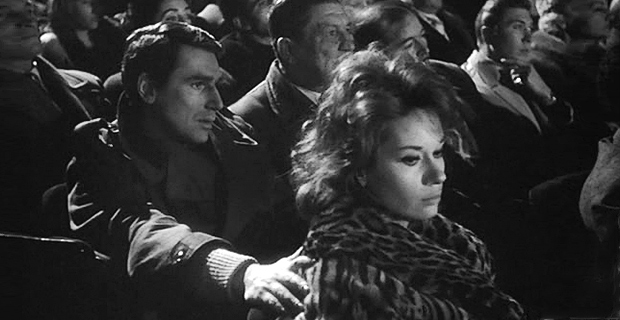 Robert Hossein and Lea Massari are pitch-perfect in this very twisty tale of murder and misdirection, all coming to pass on a very noir-like Xmas Eve. Even if you're as handsome as Hossein, it shouldn't be this easy to pick up a beautiful woman—and, as you'll see, it's a hard-earned lesson!
(1962) 90 mins. Director: Marcel Bluwal. Screenplay: Frédéric Dard, Marcel Bluwal, adapted from Frédéric Dard's novel. Music: Georges Delerue. Photographed by André Bac. With Robert Hossein, Lea Massari, Robert Dalban, Maurice Biraud.