SUNDAY MATINÉE, OCTOBER 24BELMONDO BEFORE BREATHLESS
WEB OF PASSION / À DOUBLE TOUR 2:00

Decadence and deadly doings in the south of France: a mistress, a matron, a sexy maid are all on display as Chabrol plays the black keys—figuratively and literally! Belmondo's braggadocio as the boisterous fiancé presages his star-making turn in Breathless.
(1959) 93 min. Directed by Claude Chabrol. Adaptation by Paul Gégauff from the novel The Key to Nicholas Street by Stanley Ellin. Dialogue by Claude Chabrol. Photography by Henri Decaë. Music by Paul Misraki. With Jean-Paul Belmondo, Madeleine Robinson, Jacques Dacqmine, Antonella Lualdi. Bernadette Lafont, Jeanne Valérie, André Jocelyn, Mario David.
SUNDAY MATINÉE, OCTOBER 24
THE CHEATERS / LES TRICHEURS 3:45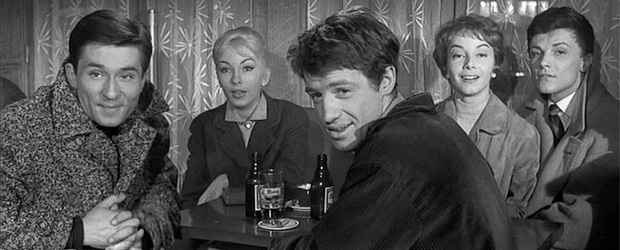 An often-scathing portrait of disaffected late-50s Parisian youth: the focus is on damaged pretty people (Laurent Terzieff, Pascal Petit) but Belmondo makes an outsized impression during his time on-screen. Carné's predictions about French youth largely came true—but he and his cinéma de papa colleagues were kicked aside anyway.
(1958) 118 min. Directed by Marcel Carné. Adaptation by Marcel Carné. Dialogue by Jacques Sigurd. Photographed by Claude Renoir. Music by Norman Granz. With Pascale Petit, Jacques Charrier, Laurent Terzieff, Andrea Parisy, Jean-Paul Belmondo, Dany Saval, Pierre Brice.